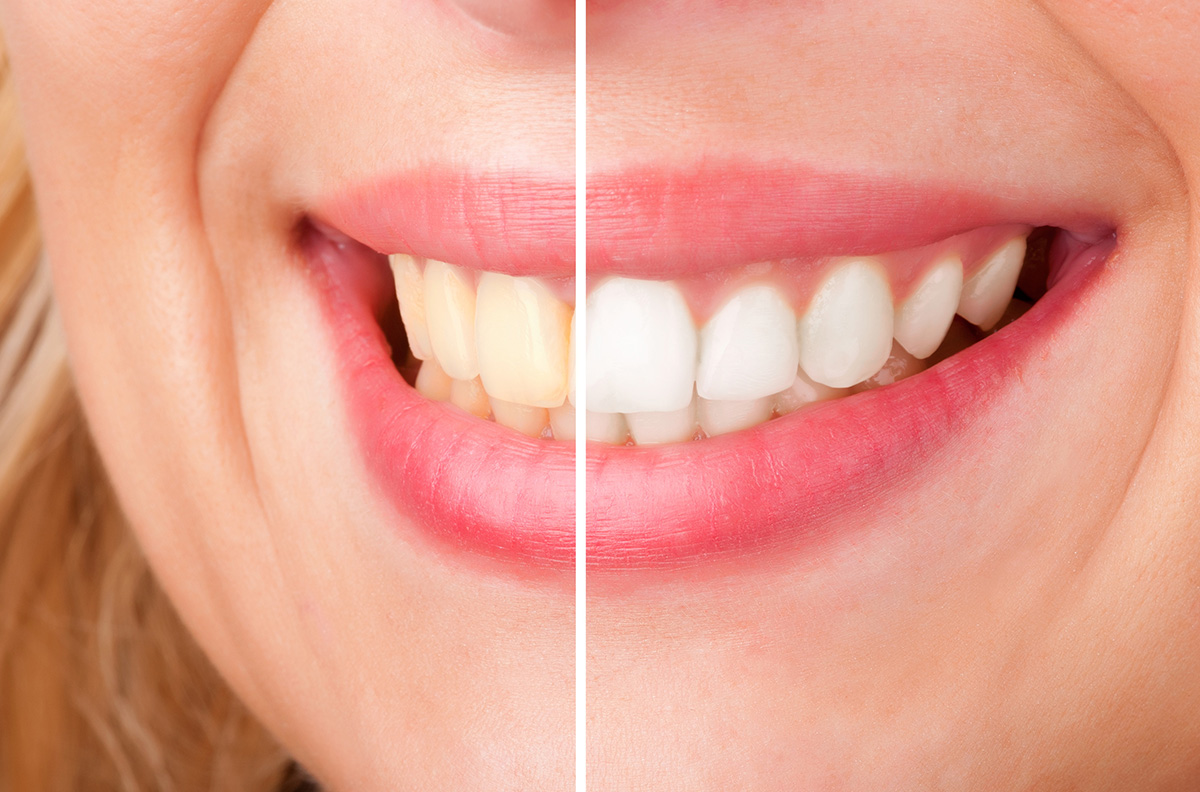 With the advent of inexpensive, effective new teeth whitening procedures and products, it's never been easier to claim the dazzling smile you've always wanted. Talk to your local dentist about these five painless teeth whitening strategies .
1. Whitening Toothpastes
Whitening toothpaste use gentle abrasives or polishing agents like hydrogen peroxide to scrub surface stains from the enamel. While whitening toothpaste don't deliver dramatic results – they're capable of whitening teeth one to two shades – they're safe, affordable and available over the counter.
2. Whitening Trays
Whitening trays require a bit more effort than toothpaste, but they deliver powerful results: Over the course of a few weeks or months, tray-based whiteners can brighten teeth by three to five shades. The secret lies in a gentle, yet effective peroxide-bleaching solution that releases over time. It's safe to wear most whitening trays during the overnight hours for up to 30 consecutive days. For particularly tough stains, your dentist may recommend an even longer treatment period.
3. Mouthwash-Style Whitening Rinses
Gentle whitening rinse can be used in conjunction with whitening toothpaste as part of your daily cleaning routine. Most brands must be swished for one to two minutes and are capable of whitening teeth by one to two shades. The effects may be magnified by the concurrent use of whitening toothpastes, but results vary by brand.
4. Whitening Strips
Like tray-based whiteners, whitening strips are form-fitting products that can be worn for longer periods of time. Most strips are clear and contain concentrated doses of a gentle peroxide solution that scrubs away surface stains and brightens the underlying enamel. Dentists in your area may recommend an initial treatment period of two weeks with an optional follow-up cycle.
5. Office-Based Whitening Procedures
Although it's a bit pricier than most over-the-counter products, in-office whitening produces dramatic, sustained results after just one or two visits. The procedure begins with an initial application of a bleach-based or peroxide-based whitening agent and continues with the targeted delivery of heat and light via a carefully calibrated laser. Since in-office whitening agents are subject to rigorous testing procedures that have been approved by the American Dental Association, you won't have to worry about being exposed to unproven or unhelpful chemicals during a visit with your local cosmetic dentist. Each treatment takes less than an hour.
Don't resign yourself to another season of unsightly teeth. Talk to your dentist about setting up a personalized teeth whitening plan that makes you proud of your smile again.
PearlInBrite is a proprietary teeth whitening
system pioneered by Dr. Jan Linhart to speed up the process so
that patients experience results immediately. In as little as one session (two
hours), patients can expect a 9-10 shade change in the color of their teeth, depending
on the degree of previous staining.
PearlInBrite is a laser whitening system, which, like all
whitening procedures, use peroxide to bleach the teeth. With ordinary laser
teeth whitening, the molecules in the peroxide are "excited" by laser energy to
break down the stains and whiten teeth. Dr. Linhart's procedure, however, uses two different lasers instead of one, and
three laser-specific gels to achieve an optimum white.
PearlInBrite Laser Tooth Whitening is far more effective than
any other tooth whitening system. However, for results to last, patients must
maintain proper dental hygiene and continue to brush and care for their teeth
on a regular basis. How can you make the most of your PearlInBrite experience
after the procedure? Here are 5 aftercare tips to make your teeth whitening
treatment last longer.
1.) Brush, Floss, and Care for Your Teeth
Regularly
This is important to the overall state
of your oral health–not just maintaining the whiteness of your teeth. However,
proper dental hygiene does remove plaque and debris that can stain your enamel,
thus preserving your bright new smile. Brushing your teeth after every meal is
ideal, although twice a day is more than efficient. You should also be flossing
once a day, and consider adding mouthwash to your daily regimen. Consult with
your dentist if you have any questions about specific whitening toothpastes or
similar at-home products.
2.) Consider Using PearlInBrite
Whitening Enhancer
What better way is there to maintain
the results of your PearlInBrite Whitening Enhancer at home than by using a
product designed by PearlInBrite's creator himself, Dr. Jan Linhart? This
enhancer gel acts as a supplement to your everyday toothpaste and eliminates
the need to wear whitening strips. It uses hydrogen peroxide to enhance your
toothpaste, and you don't even have to brush separately! Simply apply the gel on top of your toothpaste before
brushing.
3.) Minimize Exposure to Substances that Stain
Coffee. Red Wine. Certain foods with
rich sauces. All the good stuff. While you don't need to eliminate these from
your diet completely, minimizing your consumption of them can help prolong the
effects of your whitening treatment. After all, these are the foods and
beverages that can leave lasting stains. Smoking is another substance that
causes discoloration and yellowing of the enamel. If you do consume any of
these, we recommend brushing or using mouthwash soon after to minimize the
chance of lasting stains.
4.) Maintain Regular Dental Cleaning Visits
Regularly scheduled visits with your
dentist are necessary anyway to preserve the health of your teeth. But
receiving your cleaning at least twice annually from your dental hygienist can
help minimize any new stains accumulated since your last PearlInBrite
treatment.
5.) Consider Subsequent PearlInBrite Treatments
The results of PearlInBrite can last
for a long time, and can be prolonged even longer in patients who follow the
aforementioned tips. But the truth is that no whitening treatment is permanent.
The daily wear-and-tear we put our teeth through eventually catches up to us,
and we'll eventually need to have our teeth whitened again. Fortunately, with
PearlInBrite's exemplary whitening effects, this doesn't have to happen often.
But if you're noticing that your smile is losing a bit of the luster it had
after your first PearlInBrite treatment, consider contacting our office to
schedule another one. There's nothing wrong with a little touch up.
As with your teeth's overall strength and health, the whiteness
of your teeth can last for a long time if you take care of them properly. Daily
brushing, the use of dentist-recommended whitening products, and regular visits
to your dentist can make your PearlInBrite smile brighter for longer. Visit www.peralinbrite.com
to learn more about the system, and schedule your appointment today!
With the holiday season just around the corner, why not give your friends or loved ones the gift of a beautiful smile?
Dr. Linhart and the entire office staff are proud to be experts in a wide variety of restorative and cosmetic dentistry procedures including PearlinBrite whitening, dental implants, orthodontics and much more.
The gift of beautiful and healthy teeth is truly the gift that keeps on giving. Visit our website www.drlinhart.com for more information on our services, and be sure to reach out to us for details on gift certificates and how we can help you give a fabulous gift this season.