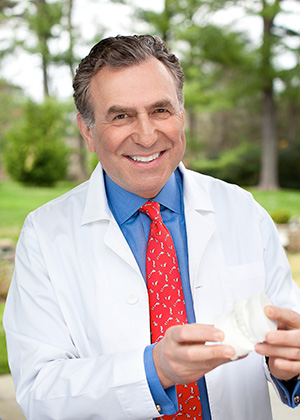 Dr. Jan Linhart has been practicing the art and science of dentistry since 1980 and provides the finest quality dental care available today. Although he focuses on Cosmetic and Restorative Dentistry, he still offers an exceptional, full service dental practice. He is, perhaps, best acknowledged for his ability to promote proper dental care and hygiene by allaying patients' dental-related fears and anxieties. "Our equipment is definitely high tech," explains Dr. Linhart, "but our traditional approach is warm and friendly." He describes it as advanced technology with a personality.
Dr. Linhart attributes his ability to establish sympathetic doctor/patient relationships to values he learned from his father, who was a well-respected dermatologist in Prague, Czech Republic. Dr. Ernest Linhart, MD was disciplined in the time-honored tradition of providing patients with both care and compassion, qualities he instilled in his son.
Dr. Linhart continues to pioneer innovative dental techniques and is resolute in his pursuit of state-of-the-art equipment for unparalleled care. These days, with so many new treatments and options available, there's no reason to settle for an outdated, less convenient approach to dental care, Dr. Linhart notes. To this end, he is committed to offering the latest, most effective treatments possible for everything from a simple filling to complex root canals and full-smile makeovers. "More options, more comfort, more quality of care; these are our goals" sums up Dr. Linhart.
How does Dr. Linhart attract so many patients from all around the world? His answer is obvious: "By word of mouth!"
Area of Expertise:
Cosmetic and Restorative Dentistry
Porcelain Laminate Veneers
PearlinBrite Laser Tooth Whitening (developed by Dr. Linhart)
Inlays and Onlays
Composite Resin (natural looking, tooth-colored fillings)
Bonding
Bleaching
Gum Re-Contouring
No-Metal Crowns
Education:
Undergraduate Education: Bowdoin College, 1975 Bachelor of Arts in Biochemistry and Russian (BA)
Dental Education: New York University College of Dentistry, 1979 Doctor of Dental Surgery (DDS)
Post Graduate Training: Mountainside Hospital General Practice Residency (GPR) program 1980
Professional Affiliations:
Academy of Contemporary Dental Education (ACDE)
Academy of General Dentistry
American Dental Association (ADA)
New York County Dental Society
American Academy of Cosmetic Dentistry (AACD)
Personal History:
Dr. Jan Linhart is married to Ellen Linhart, his wife of over 30 years! They have two sons, Alexander, who works in financial technology, and Dr. Zachary E. Linhart, who works alongside his father at Linhart Dentistry!
Dr. Linhart is also an avid sportsman, playing ice hockey, golf, tennis, as well as skiing and biking. He came to the Unite States in 1966 from Czechoslovakia, and is thus fluent in the Czech language.
To read more about Dr. Jan Linhart's fascinating history, click here!