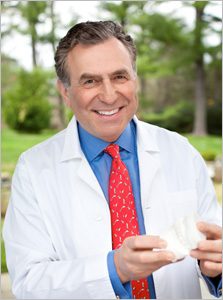 Despite his calm, sophisticated demeanor, Dr. Jan Linhart is a fierce presence in the world of dentistry. In 1979, he set his sights on establishing a highly esteemed dental practice that would offer his patients a one-stop, comprehensive, inter-disciplinary dental experience, and every day since then, he has worked steadfastly towards that goal.
"There are two things that I am absolutely committed to providing for my patients," remarks Linhart, one of New York's preeminent dental practitioners."First and foremost, is exceptional, cutting-edge dental treatment in a multiplicity of specialties," he explains, "but equally important, is a positive total patient experience." Linhart's earnestness and passion for his craft are evident in every word, and as he chronicles his personal history and professional progress, it is easy to see that his commitment is deeply-rooted and sincere.
Personal History
Born in Prague, Czechoslovakia, Linhart's family escaped the Communist regime and came to America when he was thirteen years old. His mother, Magda, a survivor of the Holocaust, spent a year in Auschwitz and Bergen Belsen before returning to Prague, where she met, Ernest, her husband of thirty-five years. Dr. Linhart attributes his compassionate nature to his mother and his strong work ethic to his father, a well-respected dermatologist in both Prague and the United States.
Without equal, Linhar's biggest fan and supporter is his beautiful wife of over thirty years, Ellen, who serves as the office's marketing director, accounts payable manager, and promotional administrator.They have two sons.Alexander is currently in sales at a tech startup, and following in his father's footsteps, Dr. Zachary Linhart works alongside his father at Linhart Dentistry.
Westchester residents for more than twenty-five years, the Linharts travel as a family, ski, bike, and hike. Jan is an ice hockey enthusiast, who once participated in the Junior Olympic tournament. His mother, now 91, resides in their family home, as does their Bijon Frise, Krystal.
Professional History
Dr. Linhart is driven by the desire to achieve excellence and has unfailingly remained focused upon the future. After graduating from Bowdoin College with majors in Biochemistry and Russian, he attended New York University's College of Dentistry, successfully completed an arduous hospital residency at Mountainside Hospital in Montclair, New Jersey, and in 1981, established a private practice at his current location.
Almost immediately after establishing a one chair office, Linhart began to explore ways of expanding and advancing his practice without sacrificing or compromising his commitment to the highest level of proficiency regarding state-of-the-art procedural techniques. He consistently sustained a familiarity with cutting edge products and technology, and set about creating a comfortable and pain-free experience for his patients.
In fact, Linhart's practice has been a paradigm of evolutionary development, with constant changes, improvements, and additions. In order to achieve his dream of creating a practice that provided a comprehensive, inter-disciplinary approach to oral medicine, while emphasizing the importance of good health and the value of cosmetic artistry, Linhart recognized the necessity of hiring experts in various fields of expertise. While he personally focused on cosmetic restorative care (porcelain veneers, crowns, and bridges), he painstakingly sought out the finest specialists in related fields, ultimately adding a periodontal surgeon, implant specialist, orthodontist, and endodontist (root canal specialist) to his practice. In addition, he employs the services of four hygienists.
"There are so many benefits to this arrangement," he explains, and with pride and enthusiasm, describes all of the advantages. "Again, my primary goal is to offer my patients unparalleled dental care, and with this assemblage of experts, there can be an on-the-spot collaboration of ideas regarding consultations, diagnosis, and proposed cross disciplinary treatment." Because Linhart's patients come from across the state, and in many cases across the world, it is extremely convenient to have all of their dental needs served at one location. It is unquestioningly a more efficient and effective way of treating all of their cosmetic and medical needs
"I once heard a quote by Zen Master, Thich Nhat Hanh," recalls Linhart, "that said, 'Sometimes your joy is the source of your smile, but sometimes your smile can be the source of your joy.' I know," he laughs, "that he wasn't talking about dental care, but all the same, it perfectly echoed my own philosophy. A beautiful smile and healthy mouth can make a person feel better and gives it them confidence. First impressions are often founded upon initial perceptions, and a healthy, beautiful smile is an incomparable calling card."
Good Health and Oral Services
Medical research has established the direct correlation between poor dental health and life threatening diseases, such as coronary disease, diabetes, and lower birth weights. In an effort to fight these conditions, Dr. Linhart offers a broad spectrum of dental services to promote oral health and enhance physical wellbeing and beauty. Some of his areas of expertise within Cosmetic and Restorative Dentistry include PEARLINBRITE® Laser Tooth Whitening (a process developed by Dr. Linhart), porcelain laminate veneers, dental implants, composite resin (natural looking, tooth-colored fillings), bonding, bleaching, gum re-contouring, and no-metal crowns. "It is about melding technicalartistry," explains Linhart."It is a blend of art and science."
One of the most innovative advances in dental medicine is the advent of pain-free and risk-free treatment, an advancement that exemplifies Linhart's professional values. Because the patient's comfort and safety are of primary interest to him, he initiated the use of surgical lasers to minimize discomfort and accelerate recovery. Likewise, the "Wand" reduces or removes the discomfort of anesthesia injections. Linhart also uses Panoramic and Digital X-Rays to ensure the lowest possible dose of radiation exposure available today.
Linhart's professional affiliations include the Academy of Contemporary Dental Education (ACDE), the Academy of General Dentistry, the American Dental Association, the New York County Dental Society, and the American Academy of Cosmetic Dentistry (AACD).
His expertise has been acclaimed in the Castle Connolly Consumer Guide and by the Consumers' Research Council of America. He has also been profiled in a number of prominent magazines, journals, and newspapers including the Daily News, In New York magazine, Dental Economics, Spotlight, Cosmetic Beauty, Fit, Seventeen, Newsweek, and New York magazine which recently praised his services as "one-stop dental perfection."
Future
Today, Linhart's practice is one of the finest in the country, but rather than relax and enjoy the pinnacle of his success, he continues to look for ways to improve and evolve. Traveling across America, he regularly attends seminars and takes advanced education courses; he updates his skills and remains current on state-of-the-art technical techniques.
Joined by his son, Dr. Zachary E. Linhart, who joined the practice in 2011, they are a team that incorporates old world compassion and care with new technology and techniques.
Drs. Jan and Zachary Linhart continues to pioneer innovative dental techniques and is resolute in his pursuit of state-of-the-art equipment for unparalleled care. "These days, with so many new treatments and options available, there's no reason to settle for an outdated, less convenient approach to dental care," he notes. When asked how he achieved such a flawless, country-wide reputation for outstanding dental care and sympathetic doctor-patient relationships, he said that the answer was obvious:"By word of mouth!"
[/vc_column_text][/vc_column][/vc_row]